Life slows down when you are sitting in front of a fire. It's like watching a sunset. You can't help but stop and be more present. That is the experience we create with Cutting Edge Firewood and the purpose behind our commitment to excellence. It's why our firewood is dried longer than anyone else. It's why our firewood lights easier and burns longer. It's why our firewood is pest and mold-free and creates less smoke. So you can stop and enjoy the experience with those you love.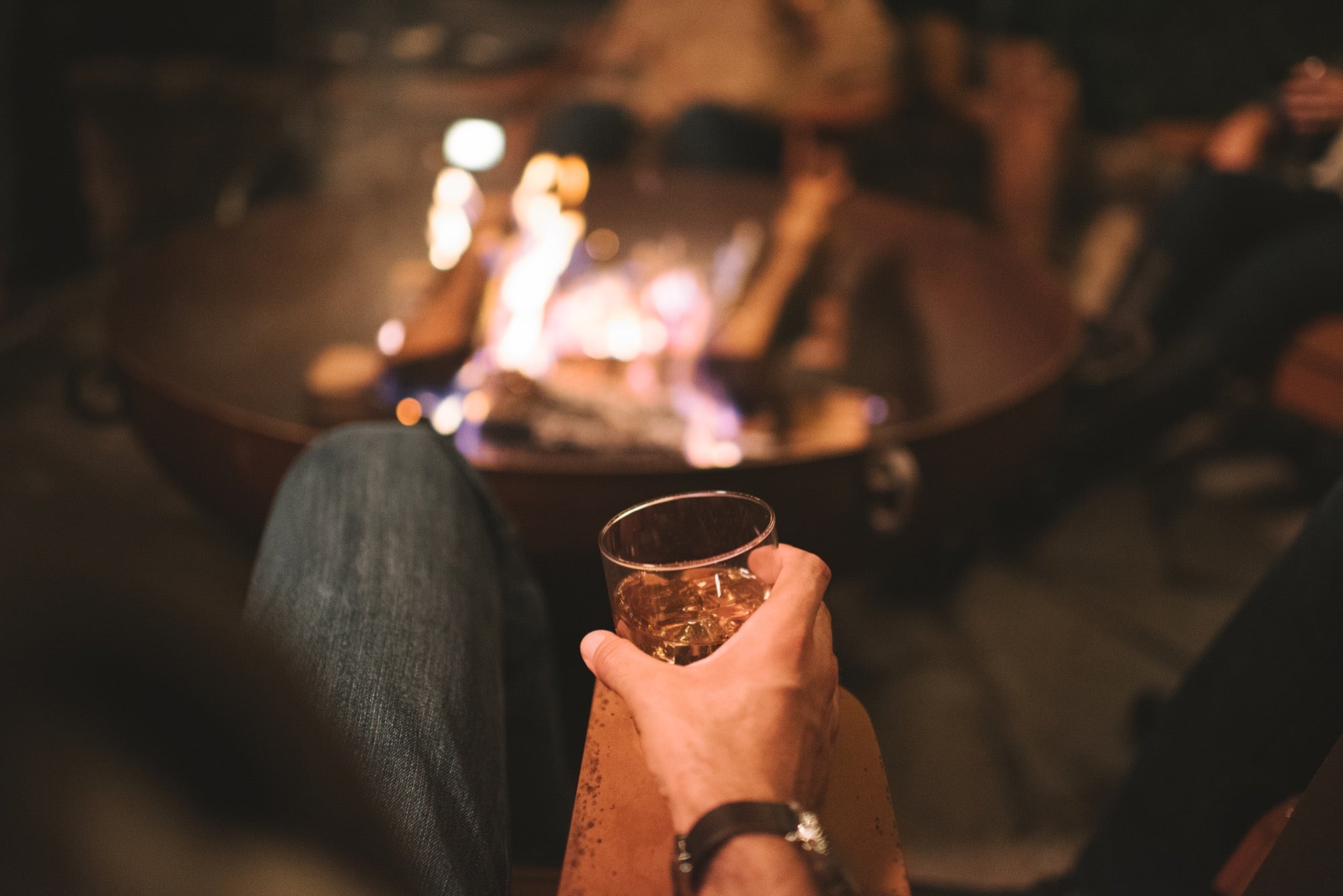 Shop By Amount
One thing that makes Cutting Edge Firewood unique is how we deliver our firewood to your front door. We take as much care in the delivery as we do in the firewood itself, whether you need enough for a romantic weekend by the fireplace or an entire season.
Cutting Edge Firewood boxes are the quickest and easiest way to enjoy a night by the fire. Each firewood box contains everything you need for an unforgettable fireside experience.
Cutting Edge Firewood racks are perfect for those who spend more time by the fire. Our patent-protected rack comes in metal and wood, depending on your delivery location.
The Ultimate Package is for those who want enough firewood for the entire season. You can mix and match different species and different sizes to create your own custom experience.
Shop By Species
Each piece of firewood is kiln-dried, inspected, and hand-selected by our team to ensure that you are getting premium cuts of the species of wood that you choose. Whether you are looking for something that burns longer or something with a more mild aroma, we create a level of consistency that is not found anywhere else in the industry.
Our ultra-premium kiln-dried hickory starts easier and burns hotter than any other firewood. Hickory emits a rich aroma, as well as that classic crackling sound.
Oak firewood emits a subtle aroma for a more understated mood. Because it burns less intensely than hickory, it's a great wood for newcomers and pros alike.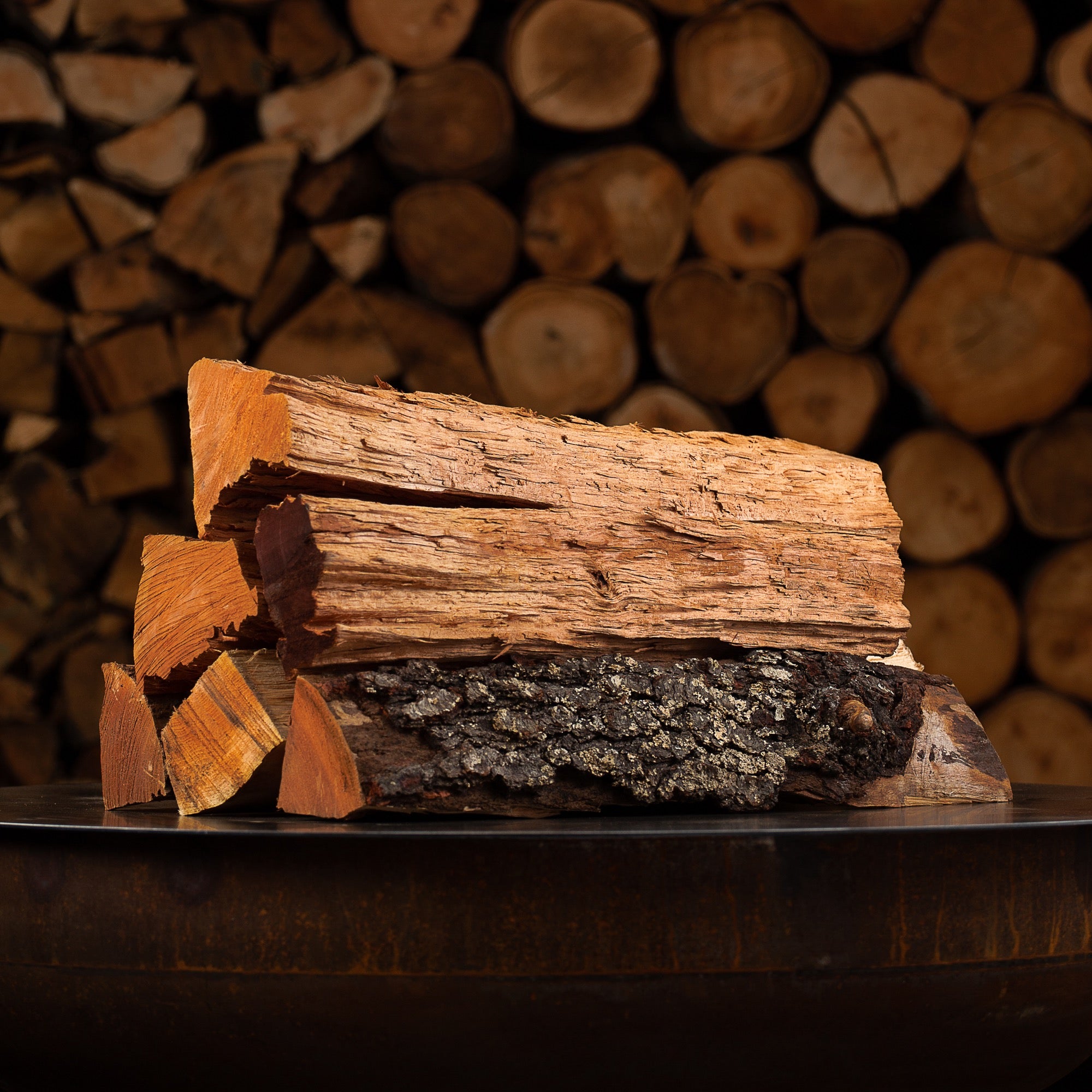 Cherry gives off a subtle and sweet aroma. With its warm color, it makes for a gorgeous centerpiece, while its lower-intensity burn turns any room into a cozy, upscale retreat.
S'mores, campfire stories, mantles decorated for the holidays, and cozy, soft lighting on a cold winter day — whatever the application is, indoor and outdoor fires are amazing experiences that provide endless relaxation and enjoyment. Whether you rely on firewood to warm your home or want the best fuel for your next backyard gathering, choosing high-quality firewood can make all the difference.
High-quality wood will produce a long-lasting, clean burn that will shine brightly and provide plenty of warmth for the whole family — but what separates premium firewood from the rest?
Learn more about the benefits of using top-quality, kiln firewood, including helpful tips and tricks for making the most out of each delivery. Then, shop Cutting Edge Firewood's selection of kiln dried fire wood for sale, customize your shipment to fit your needs, and let our firewood experts take care of the rest.
An Introduction to Firewood
Generations of homeowners have relied on firewood to cook food and warm the home. Today, backyard bonfires and cozy fireplaces are the ideal ways to spend a weekend with loved ones — but not all firewood is created equally. The right firewood can transform an ordinary fire into an extraordinary experience, while burning low-quality wood can have unpleasant or hazardous side effects.
Looking for the best firewood available? Then you have found it! Cutting Edge Firewood is the premier provider of top-quality, kiln dried firewood, perfect for your indoor or outdoor fireplace. Our wood is simple to ignite and provides a clean burn. We make it easier than ever before to order and receive firewood, with various options for you to choose from for a personalized experience that fits your lifestyle.
We offer a complimentary white glove delivery service inside our delivery artisan network and ship firewood throughout the continental USA. We'll even stack your firewood to your specifications, allowing you more time to sit back, relax, and enjoy the benefits of high-quality kiln dried firewood.
No two kinds of wood are the same.
Here are some notable qualities you'll discover about our
three most popular kiln dried firewood types:
Oak
Oak is a popular choice of wood that provides excellent heat for your home. There are more than 600 different varieties of oak. This wood is dense and burns for a long time, though not quite as long as hickory. Once we use our special process to kiln dry our oak firewood, there is no possibility of it being delivered with insects or mold. It also produces very low emissions, making it safe to burn in your home and outdoors.
Hickory
Hickory is a dense and heavy hardwood that most agree is traditionally the best for burning. Hickory wood is extremely easy to ignite since it doesn't hold much moisture once kiln dried. Of all our wood selections, many find that hickory provides the best overall traditional experience. There is no possibility of insects or mold, and it gives off the lowest emissions, making it safe whether you want to enjoy it indoors or outdoors.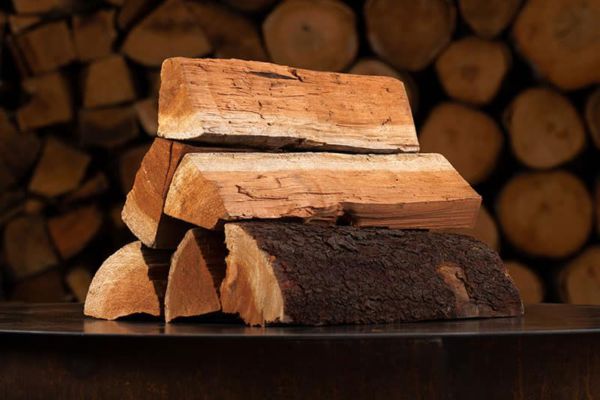 Cherry
If you're looking for an awesome unique wood burning experience that stands apart from the rest, try cherry wood. This firewood does not burn as hot or as long as our denser selections like hickory and oak, but many firewood enthusiasts refuse to burn anything but cherry firewood. The smell of cherry wood burning is out of this world, providing an amazing, slightly sweet aroma that will fill your home. Like all our kiln dried firewood, there is no possibility of cherry wood having insects or mold, and it produces minimal emissions.
Properties and Characteristics of High-Quality Firewood
From the outside, many types of firewood can look similar to one another. They likely come from the same forest and might share the same bark coloring and length, or even come from the same tree — but unless they were chosen, cut, and kiln dried by Cutting Edge Firewood experts, you won't experience the same high-quality burn. That's why it's essential to source your firewood from professionals who know what it takes to produce the best caliber of wood for home use.
Luckily, it's fairly easy to spot the most notable traits of excellent firewood, which can help you pick the best kind for your specific application. You can determine the burn quality of a piece of firewood by looking for the following properties and characteristics:
The wood burns clean: High-quality firewood burns cleanly, producing minimal smoke and ash. Low-quality wood can produce an excess of these things, which are dangerous to breathe in and known to cause upper respiratory irritation. Too much smoke and ash can also stain your walls and curtains or clog your chimney, resulting in costly repairs.
The wood produces a long-lasting burn: You've started the perfect fire and settled in with your friends for a fun evening, roasting marshmallows and exchanging stories — only for the fire to extinguish minutes later. Instead of relaxing with the others, you're now stuck around the fire ring, stoking and stirring, trying to revive your hard work. Unfortunately, this is a common scenario with low-quality firewood. Premier firewood from Cutting Edge Firewood, on the other hand, provides a long-lasting burn that requires minimal maintenance, giving you more value for your investment.
The wood has no signs of pests or fungus: If you don't know where your firewood comes from, you can't be sure of its quality. Dirt-covered wood or firewood with fungus and mold do not burn cleanly. Low-quality firewood can also harbor pests, like borers, ants, beetles, and termites, which can infiltrate your home. Our firewood is clean and always free of mold and insects, and it looks stylish when stacked and displayed.
The wood is in good condition: Never burn green, rotten, wet, chemically treated, or painted firewood, as this can release toxic fumes and damage your fire accessories. Seasoning firewood allows the wood to dry for an extended period to eliminate excessive moisture and promote a cleaner burn. Kiln drying is a superior drying method due to the high-temperature oven. Kiln dried wood is cleaner, safer, and more long-lasting than any other type. We kiln dry all of our firewood 12 times longer than the USDA standard, so you know you're always getting the best.
The wood is cut correctly: When a piece of wood is cut evenly, it burns evenly. When choosing firewood, always opt for uniformly cut whole or split logs. Split logs are typically easier to light, but do not burn as long as whole logs. Whole logs — including uncut rounds — have a lasting burn, but require a very hot fire to ignite.
The wood comes from a quality source: You already know you shouldn't burn wet, green, or moldy softwood in your fireplace, especially when the fire is indoors. Instead, choose dry, top-quality wood from healthy oak, cherry, and hickory trees.
Firewood Usage Continues to Grow
Of the 900,000 new homes built in 2019, 310,000 of them had at least one fireplace. When you pair this figure with the rising popularity of outdoor fireplaces and fire pits, it's clear that the need for firewood continues to grow — and why shouldn't it? Nearly 2% of people in the U.S. rely on firewood as their primary source of fuel. Firewood is multifunctional, providing both light and heat without the need for electricity or extension cords.
Fireplaces, wood stoves, and backyard fire rings are natural gathering spots for the home or yard, adding visual interest and increasing the property's value. Plus, wood is a natural and renewable resource, making it an eco-friendly heating or cooking method that lets you save money on your utility bill. Perfect for getting family or members of your local community together for a night of storytelling and fire-smoked delicacies.
Other popular trends include weddings and private dining events that feature roaring fires, either for their visual appeal or recreational use. When burning firewood for home entertainment, your wood's quality can greatly impact the atmosphere of the gathering. Specific types of wood evoke different smells and various flame intensities. High-quality wood will allow you to enjoy these qualities without dealing with a lot of smoke or ash residue.
Our Firewood vs. the Other Guys
When you source your firewood elsewhere, such as from a department store, you have to consider how to get it to your home. Then, you must set aside time in your schedule to carefully haul, load, and stack it. On top of this time-consuming work, you risk investing in dirty, diseased, or infested wood, which will put a damper on your gatherings. While other suppliers focus on producing as much wood as possible for minimal costs, Cutting Edge Firewood never cuts corners.
While our high-temperature kiln removes moisture from your firewood, it also eliminates any chances for fungus, mildew, and pests to infiltrate your wood — all while cleaning the bark. This drying process results in a clean, even round of wood that will fill your home with a pleasing aroma and comfortable warmth.
About Specialty Sized Firewood
If you have a large fireplace or fire pit, you might need larger pieces of firewood to ensure an extended, even burn. Cutting Edge Firewood has specialty sized shipments that you can either use on their own or pair with our standard firewood for optimal burn conditions. Our split specialty size wood promises an extended burn time and is three to four times thicker than standard cuts. Specialty sizing is available for all types of wood, including cherry, oak, and hickory.
At Cutting Edge Firewood, we offer more than firewood — we strive to provide a memorable experience. We know some of life's best memories are made in the warmth of a fire's glow, and we want the ordering and shipment process to be as simple and stress-free as possible. That's why we let you choose the type, size, and quantity of your wood, in addition to opting for luxury white glove delivery services.
Here is what you can expect when you partner with Cutting Edge Firewood:
Choose how the wood arrives: First, you'll choose how you'll receive your shipment — rack or box. You can buy firewood online as a one-time box or select subscription delivery. Each box contains enough 16-inch standard cut firewood to fuel two to four fires, plus four fire starters, four pieces of heart pine, eight pieces of kindling, and a box of cigar matches. Our 2-by-4 carbonized steel racks can hold enough wood for 15 to 25 fires, and we also have wood rack covers to keep your shipment dry.
Select your type of wood: Choose from one of our three most popular types of firewood — oak, cherry, or hickory. Each type of wood is available for either box or rack shipments. If you select our rack firewood, we'll deliver the racks directly to your home, where we will leave them with you or stack the wood on your own wood rack.
Choose the correct size: Choose the size of your wood shipment based on the type of fireplace or wood stove you plan to burn it in. At Cutting Edge Firewood, we offer uncut rounds, wood sized for a chiminea or small wood stove, and specialty sizes.
Wait for your delivery: Once you've made your final selections, you can relax while we package and deliver your shipment to your chosen location! Our professional white glove delivery professionals will place your wood wherever you want it as long as you live within our Delivery Artisan Area. We'll also happily demonstrate how to light it or answer any questions you have about getting the most from your new fuel. Live outside the local area? We can firewood delivery anywhere in the U.S., which includes bulk delivery options.
Planning a special event? Consider adding on our fire butler service, so you can enjoy your gathering while we start and manage your fire throughout the evening.
Artisanal Firewood Delivery Services
Cutting Edge Firewood's Artisanal Delivery Service is classified as a luxury white glove service. This service takes the work out of buying and receiving firewood. Delivery Artisans deliver firewood in patent pending, exclusive, airbrushed firewood racks with a high-quality canvas cover perfectly stacked every time in the location of your choice. Providing ready to use, high-quality firewood materials every time with expert firewood knowledge, the Delivery Artisans can even start the first fire and demonstrate how to have the best experience.
Once you schedule your preferred delivery date, we will begin processing the order immediately and typically deliver within one week. If you need your shipment sooner, we also offer same-day delivery service on box shipments. In addition to Artisanal Delivery, you can also take advantage of our fast, efficient fire-starting services. Our Delivery Artisans will build and start your fire while offering helpful tips along the way, so you can replicate the process next time.
Our delivery service is constantly expanding and currently includes the Atlanta area, as well as Charlotte, North Carolina, Nashville, Tennessee, and everywhere in between.
Hickory Firewood for Sale
Though you'll find hickory trees all across the U.S., they are most common in the hills and forests of Central and Eastern regions of the country. The exact shade and texture of the bark varies between different types of hickory, but the color is most often some degree of ashy gray — sometimes with a shaggy appearance.
Hickory firewood provides you with the distinctive qualities everyone loves about a great fire. It is a customer favorite because of its:
Quality: It burns longer than all our other split wood options — even longer if you choose our oversized hickory firewood or uncut rounds. It also produces the hottest and brightest flames.
Experience: Burning hickory creates that cozy, classic, crackling sound that you associate with a flickering flame, making it the ideal selection for cold nights gathered with loved ones around the fire pit.
Fragrance: It leaves behind one of the most pleasing firewood aromas, making it especially suitable for special events.
Versatility: It's versatile — you can use hickory for smoking and cooking food, thanks to its smokey flavor.
Comfort: Burning hickory produces the least amount of emissions and minimal sparks or smoke, ensuring a safe and comfortable experience.
Simplicity: Hickory doesn't hold moisture, so it is very easy to ignite once dried in a kiln. Fire management once ignited is also very straightforward.
With more than 90 types of oak trees in North America, oak firewood is among the most abundant and one of the most common types of firewood for sale. At Cutting Edge Firewood, we source our oak firewood from red and white trees that grow in lush, Southern forests. The color of oak bark varies, depending on the type of tree in question, but is often a lighter shade of brown or gray.
For those who don't have a lot of experience with firewood — or, as we call them, "casual burners" — oak is a great starter wood to begin your adventure in premium firewoods because it offers:
Simplicity: Oak firewood is simple to light, thanks to the oak tree's low resin, moisture, and sap content.
Versatility: It produces bright flames that give off ample heat. It is ideal for use in all applications, especially indoor fireplaces, because it burns clean.
Fragrance: Many people prefer the bright glow of oak because it produces a pleasant smell that many describe as sweet.
Safety: Oak firewood flames are easily manageable, making them a safer choice for households with children or pets, or for a starting home project.
If you're seeking a unique burning experience to impress your friends, create a one-of-a-kind atmosphere, or add something special to your next event, cherry firewood is just what you need. Cherry firewood is easily recognizable, thanks to its bold, warm color and straight grains, as well as its:
Strength: This wood is particularly strong, ideal for shipping long distances or putting in long-term storage.
Flame: It produces a bright, warm glow, but not too much heat, making it perfect for use during spring, summer, and early fall.
Fragrance: Though you won't get as long of a burn time as you will with our hickory and oak offerings, there is one significant benefit of cherry wood that appeals to everyone — the smell. We — along with our clients — can't get enough of this sweet, unique aroma. The best part? After burning cherry firewood, you can expect the pleasant smell to linger around your home or property for a long time.
Frequently Asked Questions
Have a question about the best way to use or store your firewood? Our firewood experts are here to help, offering details and resources on firewood best practices. Below you'll find the answers to some of the questions we hear most frequently about firewood. To learn more — or ask a question you don't see listed here — feel free to reach out to us by phone or email for more assistance.
Artisanal Delivery Service
Cutting Edge Firewood's Artisanal Delivery Service is classified as a luxury white glove service. This service takes the work out of buying and receiving firewood. Delivery Artisans deliver firewood in patent pending, exclusive, airbrushed firewood racks with a high-quality canvas cover perfectly stacked every time in the location of your choice. Providing ready to use firewood every time with expert firewood knowledge, the Delivery Artisans can even start the first fire and demonstrate how to have the best experience.
Our delivery service is constantly expanding and currently includes the Atlanta GA area, Charlotte NC, Nashville TN, and everywhere in between. We also firewood delivery nationwide!
Get Firewood Shipped Anywhere in the United States
Our Artisanal Delivery services are available for everyone in the Atlanta area, but our reach extends far beyond Georgia. Our firewood and firewood products are available online to be shipped anywhere in the United States. You will receive the same kiln dried wood as our local clients — available in either a box, rack, or bulk ordering option — packaged neatly and securely for safe, prompt delivery.
Shipping rates of our kiln wood for sale vary depending on the type and size of your order, as well as the delivery destination. Some products are even eligible for complimentary shipping.
If you're getting your firewood shipped, consider investing in the ultimate firewood delivery package, which includes everything you need to light and maintain dozens of fires. This package includes:
Five racks of your choice between hickory, oak, and cherry wood — you're even free to mix-and-match to create your ideal supply.
One hand truck so you can easily and safely transport the racks and store them in the correct place.
Two fire starter packages, which include kindling, a bundle of heart pine, and fire starters.
Your choice between a box of packaged firewood or small order of smoking chunks.
This package is a valuable investment for anyone who relies on firewood to warm the home, especially if you're stocking up for the winter months. This package includes complimentary shipping as well, making it an investment well worth its value.
Learn More About the Cutting Edge Firewood Experience
As the only supplier of premium firewood and fire products in the Southeast, we are passionate about providing a unique experience. Whether you're planning a special event, organizing a backyard bonfire, or simply searching for a clean, reliable way to warm your home, we are here to make it happen. Contact a representative today to learn more about the Cutting Edge Firewood experience and ask about our delivery services.
We proudly serve the greater Atlanta area
Atlanta
Big Creek
Cartersville
Chastain Park
Clarkdale
Dacula
Fayetteville
Flowery Branch
Gainesville
Grayson
Holly Springs
Johns Creek
Lawrenceville
Lithia Springs
Lithonia
Loganville
Mableton
Marietta
Milton
Morning Side
Morrow
Mountain Park
Norcross
Oakwood
Palmetto
Peachtree City
Peachtree Corners
Powder Springs
Riverdale
Roswell
Sandy Plains
Sandy Springs
Smoke Rise
Smyrna
Snellville
Sugar Hill
Tucker
Tyrone
Union City
Woodstock
Cashiers, NC
Lake Burton
Lake Rabun
Lake Keowee
Lake Oconee
We Proudly Ship all across the United States, including:
Hartford, CT
Boston, MA
Charlotte, NC