Add a Touch of Luxury to Your Meals with Our
Cooking Wood Splits (8")
Transform your cooking experience with our 8" Cooking Wood Splits. Measuring 1-2" in diameter, they are the ideal size for a variety of grills and smokers, including vertical smokers, kamado grills (like Big Green Egg and Kamado Joe), offset smokers, and compact camping grills. These versatile splits provide a canvas for experimenting with an array of tantalizing flavors. Mix and match to discover your perfect flavor combination, and elevate your culinary creations to new heights.
Shop By Species
Oak
Oak is an excellent heat source that provides a subtle, wood fire taste that is loved by chefs around the world.
SHOP OAK COOKING WOOD SPLITS
APPLE
Cooking with apple wood provides a sweet, apple-smoked flavor to your food and is a crowd favorite.
SHOP APPLE SMOKING CHUNKS
Variety Pack
Not sure which to choose or maybe you want to mix and match? Try our 4 species variety pack.
WHY CHOOSE CUTTING EDGE FIREWOOD?
What makes our cooking wood the best in the world?  We put the wood through a special drying process that prevents any mold, while offering far superior flavor. You can feel great about cooking with Cutting Edge Firewood cooking wood splits. And of course, you can trust the wood to light quickly and have a consistent burn throughout the entire cook!
All of our cooking wood splits receive complimentary shipping and delivery throughout the United States! Order yours today and taste the difference.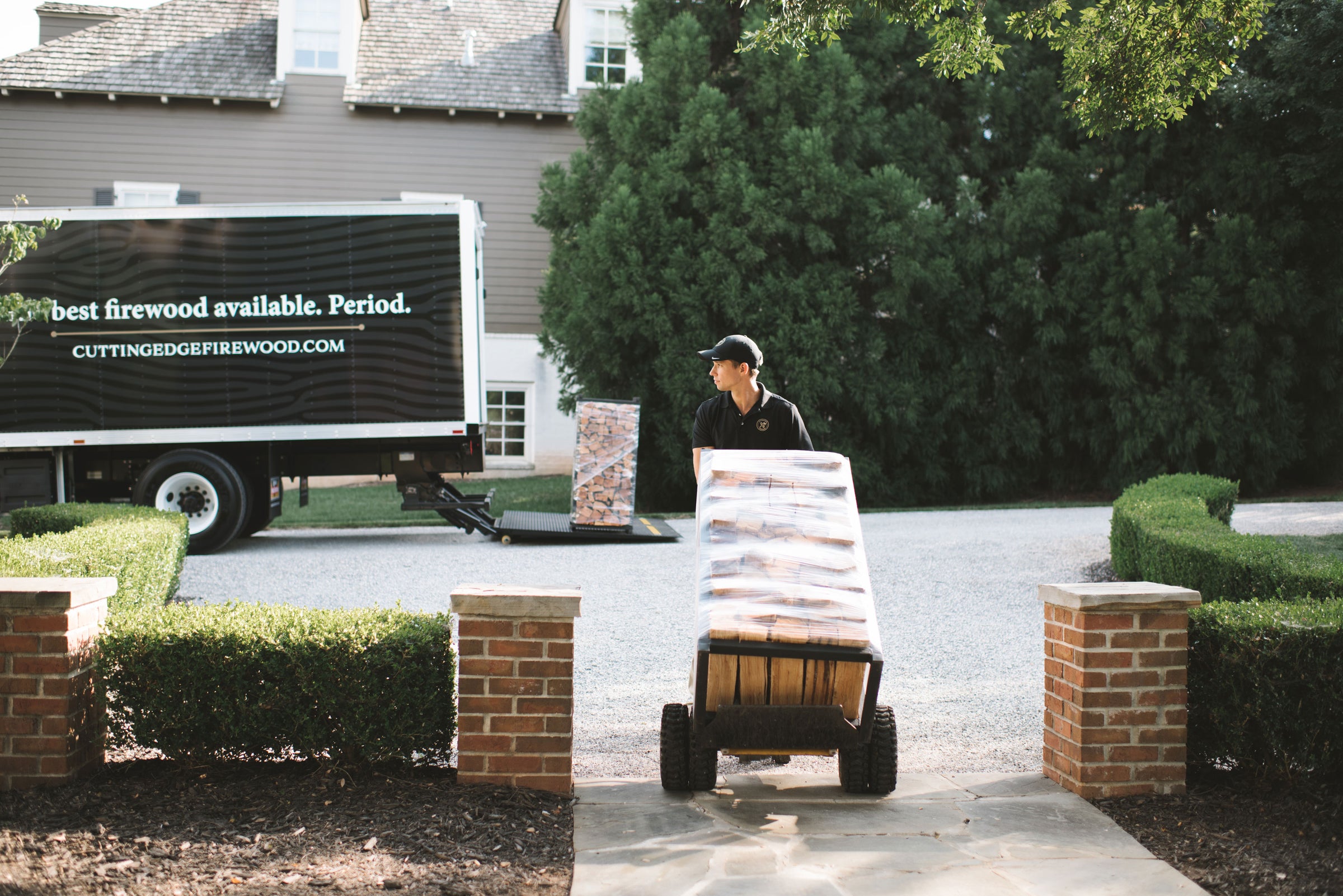 COMPLIMENTARY SHIPPING ANYWHERE IN THE CONTINENTAL UNITED STATES!
Experience the convenience of having firewood delivered straight to your door with our ultra-premium firewood boxes that are packed with everything you need for a perfect night by the fire.
WHY COOKING WITH WOOD SPLITS IS BETTER THAN LOGS
Ever wondered why we prefer to use wood splits for smoking over cooking over whole logs and even charcoal here at Cutting Edge?
Round logs have their advantages, but cooking wood splits will better serve the purposes of 90% of pitmasters for several reasons. Smoking wood splits are easier to work with, more flexible, and deliver a better quality burn on most fires.
There's nothing like experimenting with different chunks and splits with so many woods and flavor pairings to choose from. Take your game to the next level and become the grillmaster you were born to be with the help of Cutting Edge.
Want proof that wood splits for smoking are the best choice? Here's what you need to know.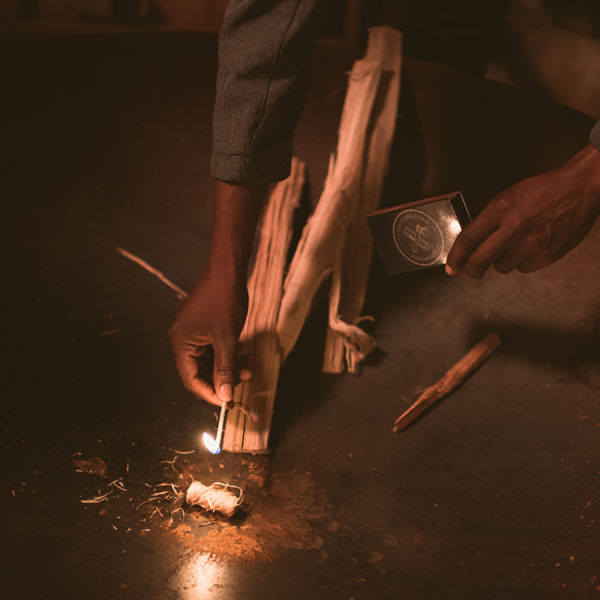 They Light Up Fast
Don't spend the day struggling to light your fire. Buy wood splits for smoking, and you'll have a roaring fire in minutes. While whole logs do burn for longer, they also take a lot longer to get burning. Save time and use wood splits for your smoker so you're not frantically trying to get a fire going.
They Put Your Meat to the Sizzle
Even the amateur pitmaster knows that cooking up chicken, beef, brisket, ribs, or big game requires a lot of heat and smoke. Wood splits for smoking burn hotter because there's more organic matter and a higher density. BBQ wood splits are the only solution for maximum heat and faster cooks. Get to searing and charring and add your unique griller's touch to every fatty, juicy part of your meats without burning using premium Cutting Edge wood splits for smoking.
They Provide Consistent Cooks Every Time
Don't know whether to add a whole log or a few cooking wood splits to your next barbecue? Whole logs can do incredible things. The slow-burn effect works perfectly for pork shoulders and lamb shanks. But for most meats, a kiln-dried, wood split will get the results you want faster. Smoking wood splits burn from the heart of the log rather than from the bark. By consuming organic matter quickly and evenly without further assistance, you guarantee a clean flame and an even, consistent burn.
Which Cooking Wood Is Best For You?
Our cooking wood splits are the perfect size for people looking to cook with miniature logs – each one is about 8 inches long and cut to fit into larger Kamado smokers (Think Big Green Egg, Kamado Joe and kettle grills), other smaller smokers, vertical smokers, and offset smokers. This means you can get the best cooking wood available, now in a smaller package.
Watch on YouTube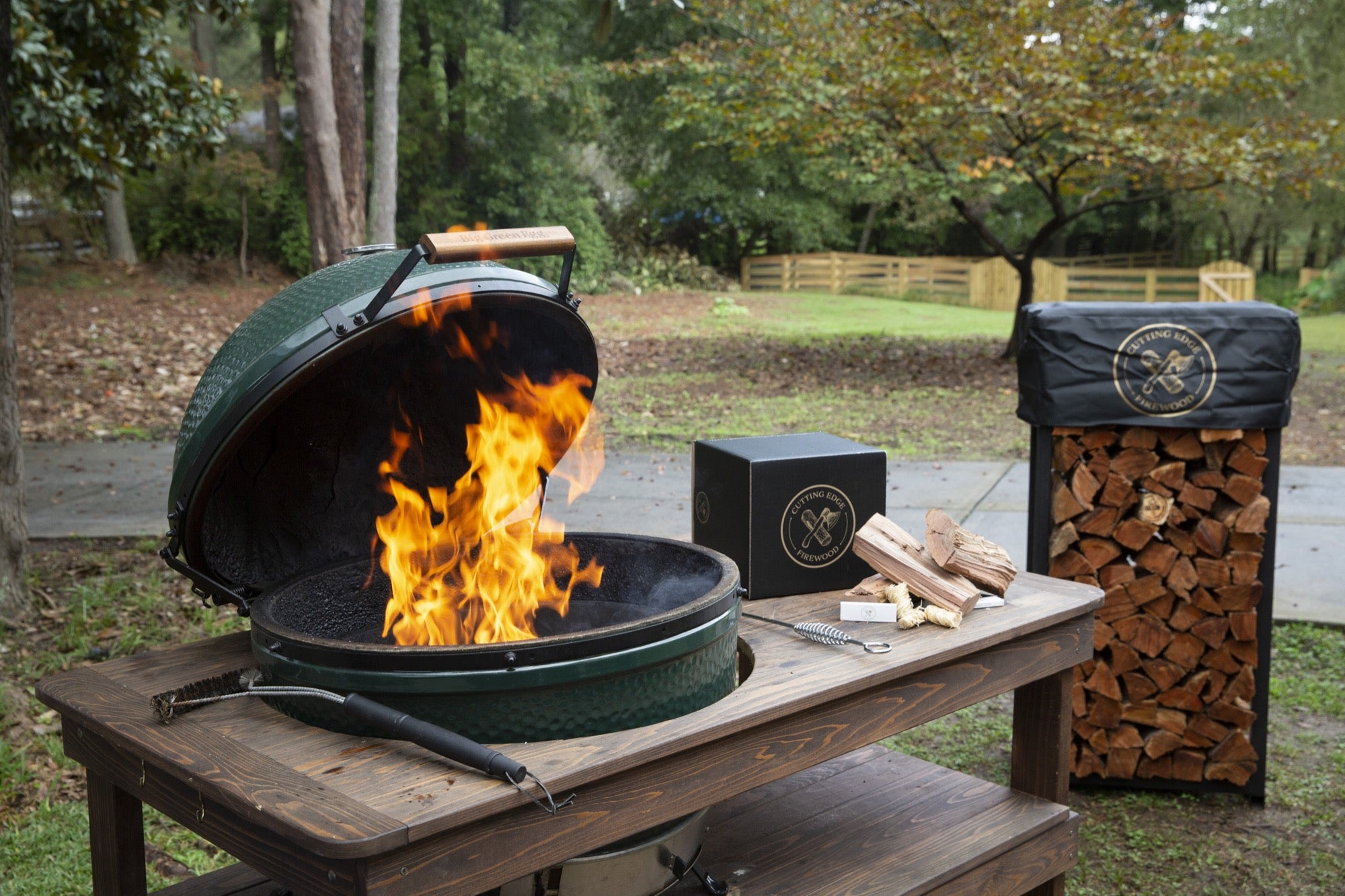 Try Our Cooking Wood Splits Today!
Any good pitmaster knows if you get the flame right, you get the meat right. Buy wood splits for smoking from Cutting Edge today and get to cookin'.
BUY COOKING WOOD SPLITS
★★★★★

Absolutely the best run company imaginable!

Homer R.
★★★★★

Awesome firewood, best service in the world

Joe J.
★★★★★

Great burn and taste for my pizza! The pizza wood from Cutting Edge is amazing.

Dusty R.
★★★★★

This is beyond a doubt the best firewood I've ever purchased. Creates a beautiful, blazing hot, actual heat producing fire.

Terri K.
★★★★★

Delivery was awesome and firewood perfect. Timely and awesome service.

Howard G.
★★★★★

I LOVE how this wood ignites and burns.

Chuck D.
★★★★★

Love the boxes the chunks of wood comes in! Nice thick chunks that works for my vertical charcoal smoker.

Antonio J.
★★★★★

From ordering online to delivery. Cutting Edge has impeccable customer service and absolutely beautiful wood.

Craig B.
★★★★★

We're in love with the cherry wood smell— but the thing that will bring us back to Cutting Edge was the *truly truly truly* exceptional customer service.

Eugene P.