Why Cutting edge?
Why Buy Your Hickory Firewood from Us?
At Cutting Edge Firewood, we're passionate about burning firewood. But we're even more passionate about helping every customer create memorable experiences. 
We achieve this by offering helpful services and the highest-quality, cleanest-burning firewood possible.
The Best Hickory Firewood You Can Buy
Spend less time tending the fire and more time enjoying it. As one of our best sellers, hickory starts easier and burns hotter and longer than any other firewood. It emits a rich aroma, as well as that classic crackling sound. The result is a singular ambiance that mixes luxury with nostalgia.

You can buy hickory firewood in three different amounts as well as specialty sizes and extended use to enhance your fireside experience.
Why Cutting Edge?
We Understand
We understand the hassles involved with creating a good fire. Finding the right firewood can be time-consuming, hauling it to your home can be tiresome and messy, and starting a fire, especially with lower-quality wood, can be challenging. 
Hickory Firewood
Delivered Right to Your Door
We ship hickory firewood anywhere in the continental United States in boxes, racks, and bulk packages! If you are located in Atlanta, Nashville, Charlotte, Chattanooga, Greenville, or the surrounding metro areas, find out about our complimentary firewood delivery service: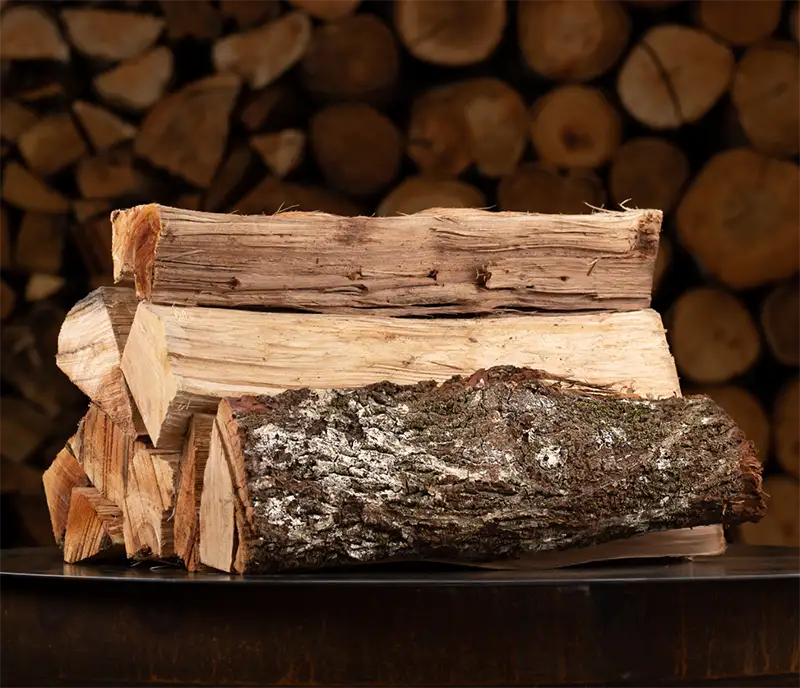 Why Hickory Firewood?
Hickory is the most premium and the most popular species of firewood we offer. This heavy and dense hardwood is easy to light and is considered ideal for burning and cooking.
Not only does hickey firewood burn hotter, brighter, and longer than other species of wood, but it also produces exceptionally low smoke emissions. This makes hickory firewood safe to enjoy indoors and outdoors.
Fire enthusiasts love using hickory in their fireplace or firepit because of its pleasant aroma and inviting crackle. Both of which are guaranteed to create an exceptional fireside experience.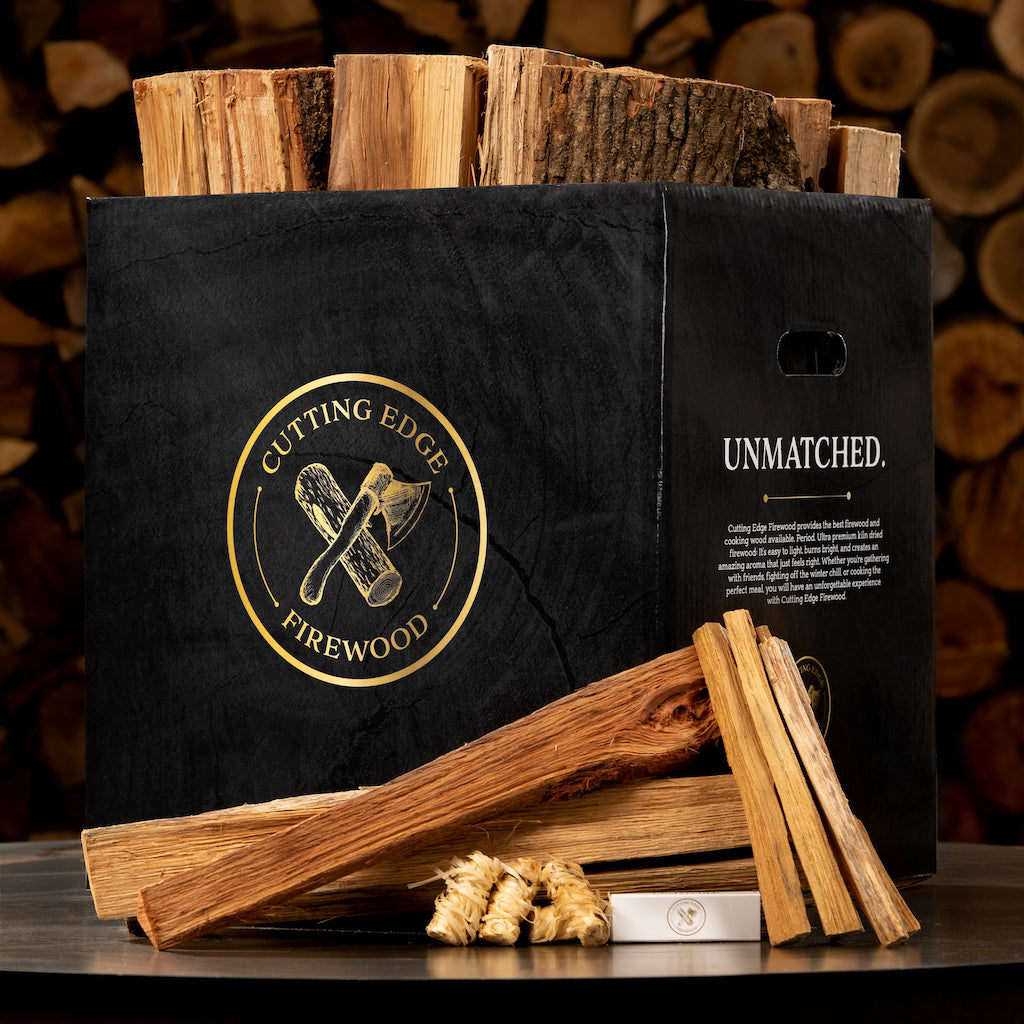 Something to Consider Before You Buy Hickory Firewood
While hickory firewood might be easier to find than some other species like cherry firewood, finding high-quality firewood can be a bit of a challenge. Most hickory firewood that has been "seasoned" ends up with a considerable amount of rot, mold, fungus, and pests due to the process of leaving wood outside to dry for a minimum of twelve months. In fact, Hickory is one of the fastest rotting woods, when left outside.
At Cutting Edge Firewood, we only sell Cutting Edge Kiln Dried Hickory Firewood that is properly dried leaving it free of insects, mold, and excess moisture. This is why our hickory firewood lights easier and burns cleaner. 
To make your fire last even longer, our hickory firewood pairs exceptionally well with our Extended Burn Hickory and Uncut Rounds. Just make sure your fire is burning hot enough before you add any of our extended burn products.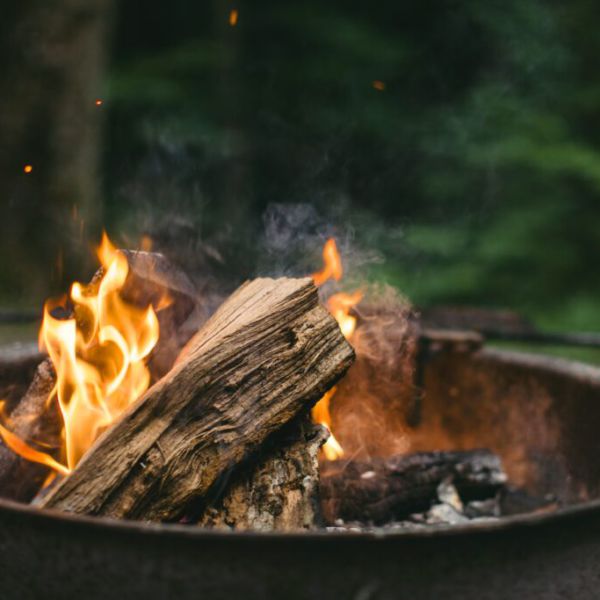 Burning Properties of Hickory Firewood
Ignition: Getting a fire started with our hickory logs is quick and easy.
Burn time: Hickory firewood burns for a longer amount of time.
Heat: This firewood gives off a hot flame.
Aroma: Hickory firewood has a classic and bold smokey aroma that is not overbearing.
Brightness: Hickory gives off a bright and beautiful flame.
Emissions: This wood has a low amount of emissions.
Insects: Because our logs are Cutting Edge Kiln Dried, our hickory firewood has no insects.
Mold: Our unique kiln drying process also prevents any mold growth on our hickory logs.
Where Does Hickory Firewood Come From?
Hickory trees are large trees with plenty of foliage that creates a canopy effect. These trees belong to the walnut family and are of the Carya genus.
There are eighteen species of hickory trees but only twelve of them are actually native to North America. The most common are shagbark hickory and shellbark hickory.
You can easily identify hickory by the rough textured bark with a mix of shallow and deep ridges. The bark is generally gray but darkens as the tree matures.
Let Us Help
At Cutting Edge, we can guide you through the entire process and make sure that your experience is hassle-free and memorable.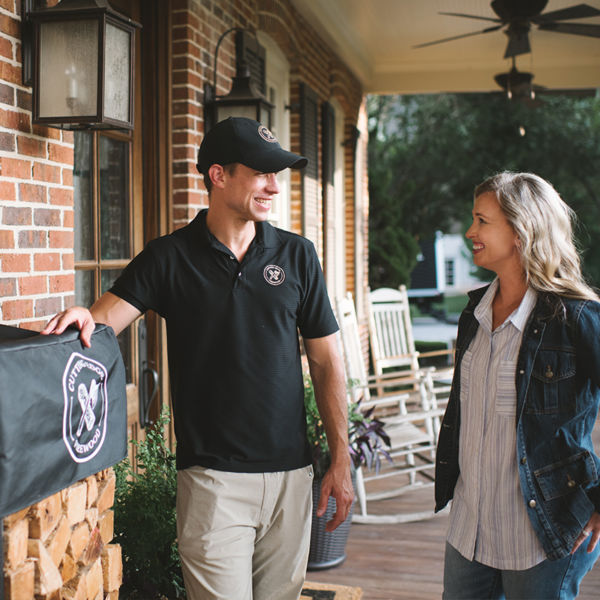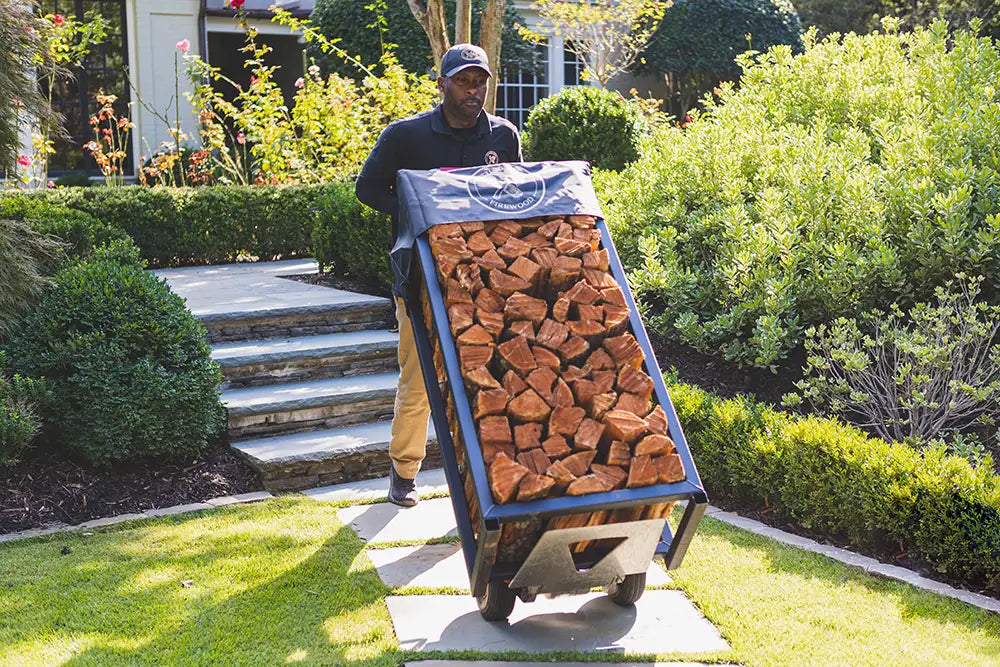 If you would like to learn more about our services or have any questions, please contact us by either calling 678-878-2434 or emailing service@cuttingedgefirewood.com and one of our experts will be happy to help you.