Who is cooking with Cutting Edge Firewood?
The most demanding chefs and grill masters choose Cutting Edge Firewood to fuel their grills, smokers and wood fired ovens. Cutting Edge offers unmatched quality and unparalleled convenience. Great food comes from great ingredients, and the wood you cook with is no exception.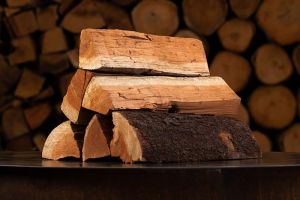 An excellent apple wood substitute, cherry cooking wood is a favorite for use with nearly any grilled or smoked produce. Use cherry smoking chunks for a sweet, fruity flavor in vegetables, chicken, turkey, seafood and more.
Oak cooking wood is one of the most widely used hardwoods available and is a go-to choice for any chef looking for a kiln-dried wood experience. Oak adds a subtle smoky flavor perfect for any dish without becoming too bold or overpowering, making it ideal for all types of red meat, pork, poultry or vegetables.
When it comes to barbecue cooking, no wood has been more trusted throughout the years as pecan. With a similar taste to hickory without hickory's overpowering bold flavor, this wood offers a smoky taste perfectly suited for meats such as ribs and poultry.
Maple trees are a hardy and beautiful tree that is a perfect firewood for cooking. The same wood that makes maple syrup can also provide a mild, sweet flavor to your food when you cook with it. The aroma and flavor will be beautiful too! Our maple wood will burn clear and consistent, providing great flavor throughout the duration of your cook.
Cooking with apple wood is as American as apple pie or Johnny Appleseed. This BBQ firewood provides a sweet, apple smoked flavor to your food and is a crowd favorite when cooking pork, poultry, seafood, and lamb.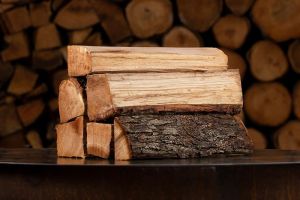 Cooking experts love our hickory smoking chunks for their distinct crackle and robust taste. Because hickory cooking wood gives an overpowering smoky flavor very quickly, chefs often pair hickory with lighter cooking woods for a more even, balanced taste.
Not Sure Which Firewood for Cooking is Right for You?
Testimonials
We are passionate about great fires, but we aren't the only ones! Here is what other people have to say about our Cutting Edge Kiln Dried Firewood:
Incredible guys, great product, even better experience. Within 24 hours of reaching out, we had a new fire pit delivered, installed, and working - as well as a full rack of the best firewood I've ever seen. Seamless and accommodating. Great work guys.
Great burn and taste for my pizza! The pizza wood from cutting edge is amazing . I have just received my second box. The wood is clean and burns efficiently. It's adds great flavor to the pizza like you expect from a wood oven pizza. But does not over power the pizza. I have gone through a box already this summer. It would say I made 12-15 pizzas in the small box. I highly recommend this wood for pizza ovens. I have the Kankay Forno oven/grill from Argentina and the cutting edge pizza oven wood fits like a glove. No cutting. I also got the starter kit and with one match I can go from wood to ready to start in about 10-15. Minutes. The wood burns at a constant temperature and rate and in my oven a perfect pizza in about 10 min. It all starts with great wood.
Absolutely the best run company imaginable! From my initial order processing to delivery of my firewood, their customer service was incredible! Daryl, the Artisan (is that not a great term or what) who delivered my firewood was the best ambassador ever for Cutting Edge Firewood. The enthusiasm and pride of the employees was evident every step if the way! I look forward to a continued relationship with all these folks.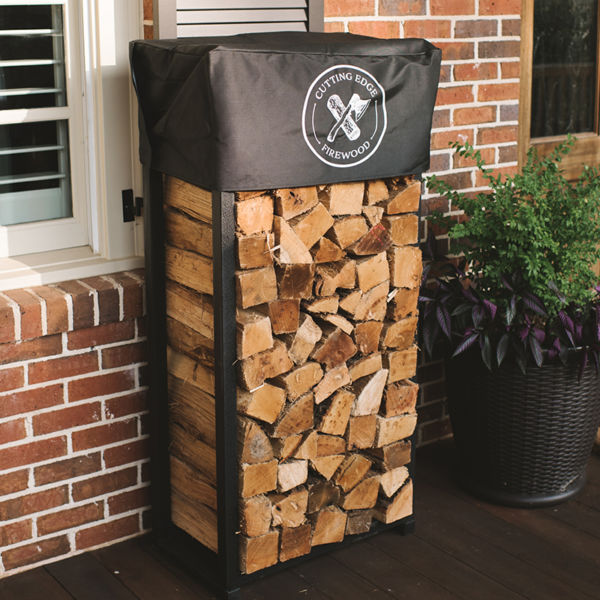 Cooking with full sized logs? The Cutting Edge Firewood rack is 2′ wide and 4′ tall with enough wood for 15-25 fires. If you're a local customer from the surrounding areas, then we're happy to loan you our metal rack. We can also remove the wood from our packaging and stack it into your firewood rack. If you order a rack for shipping, we'll send it inside a wooden rack that is easy to move and manage.
Cutting Edge Firewood Boxes of Wood are filled with the best cooking wood logs available. We deliver our cooking chunks and cooking wood splits inside boxes, plus our firewood log boxes also include some kindling, a selection of Excelsior Fire Starters, and your choice of firewood so you get a great cooking experience every time.
What makes our Cooking Wood special?
You can find cooking wood just about anywhere – from your own backyard to hardware stores and everything in between. The only problem is, most cooking wood for sale is actually pretty bad for cooking!
Musty wood will add a musty flavor to your food and completely ruin an otherwise perfect meal. Wet cooking wood will reduce the temperature of the fire every time you add a piece. Instead of cooking your food, the fire must burn away the water. Seasoned cooking wood is also problematic – it will almost always contain some mold and fungus, which you don't want for cooking. So, where to buy wood for cooking that's actually good for your health?
Fortunately, Cutting Edge Firewood delivers and ships the best kiln-dried cooking wood available. It has never been easier to source quality cooking firewood – the wood comes to you complete with everything that's needed for heating, cooking and enjoying!
There are several reasons our cooking wood is the best:
We only source quality hardwoods that are ideal for cooking on wood, such as hickory, cherry, apple, and pecan cooking wood.
We harvest the firewood for cooking specifically, and put it directly into the kiln for drying. This means our cooking wood never sits around decaying and will therefore be more dense. This allows the wood to burn longer and hotter. In fact, one restaurant found our cooking wood lasted 40% longer than his previous supplier!
Our drying process is extremely rigorous – each piece of cooking wood spends 48 hours in a 250 degree oven. It comes out extremely dry and with no bugs, mold, or fungus.
There is never a musty flavor from our wood because it is so dry.
You can taste the difference – our dry hardwoods provide excellent flavor and will improve anything you cook.
The best way to experience the difference is to try our cooking wood yourself. Place an order from the list of premium firewood options today and be prepared for the best cooking wood available. Period.