Shop the Best Pizza Oven Wood
There is nothing like the authentic taste of wood fired pizza. The crisp crust. The bold flavors. And the wood fired aroma. Our pizza wood was specifically designed to bring that authentic wood fired taste and experience you love so much home with you.
Complimentary Shipping Anywhere in the Continental United States!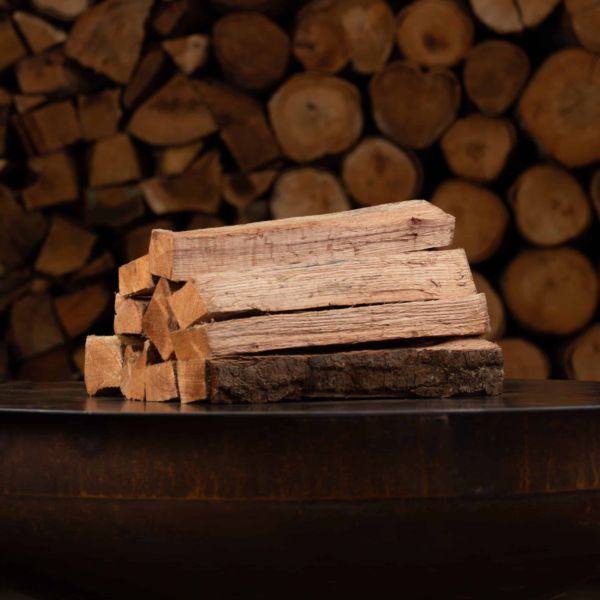 Made specifically for larger pizza ovens, our Full-Sized Pizza wood is ideal for restaurants and true pizza connoisseurs.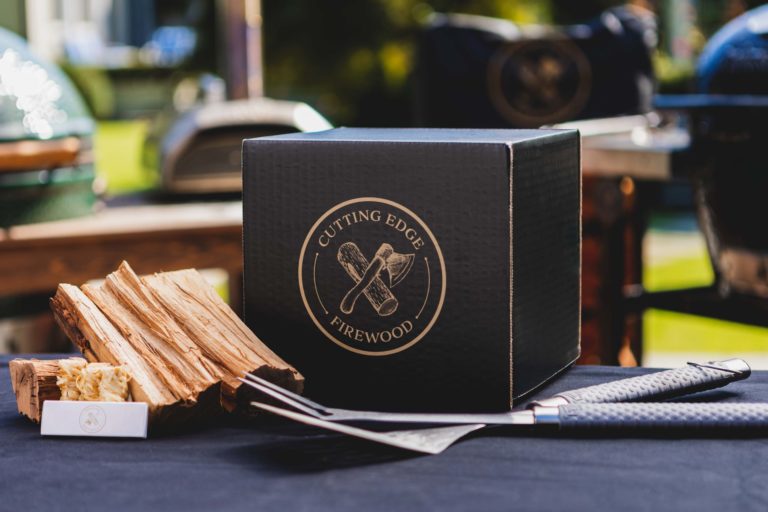 Bring the taste of Italy to your backyard with our miniature pizza wood. Cut specifically for your favorite portable pizza oven.
Who is cooking with Cutting Edge Firewood?
The most demanding chefs and grill masters choose Cutting Edge Firewood to fuel their grills, smokers, and wood-fired ovens. Cutting Edge offers unmatched quality and unparalleled convenience. Great food comes from great ingredients, and the wood you cook with is no exception.
Testimonials
We are passionate about great fires, but we aren't the only ones! Here is what other people have to say about our Cutting Edge Kiln Dried Firewood:
Love the boxes the chunks of wood comes in! Nice thick chunks that works for my vertical charcoal smoker.
From ordering online to delivery. Cutting Edge has impeccable customer service and absolutely beautiful wood.
We're in love with the cherry wood smell— but the thing that will bring us back to Cutting Edge was the *truly truly truly* exceptional customer service.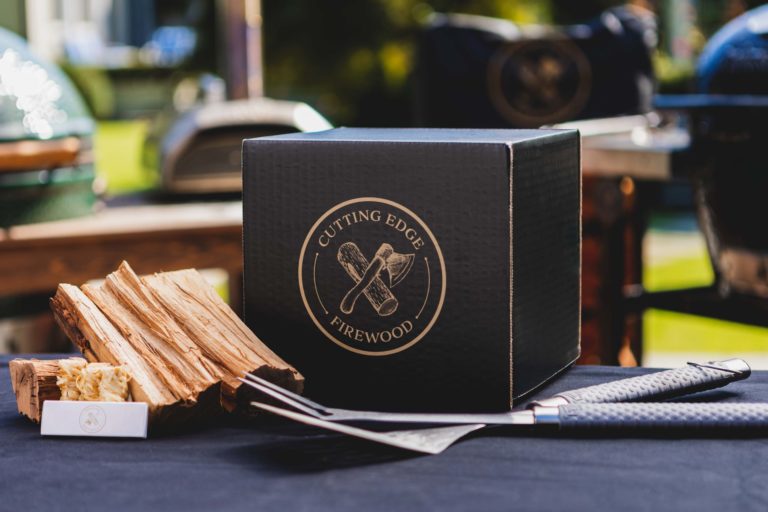 Mini Pizza Wood for Small Ovens
Our miniature pizza oven wood is about 6″ in length and is specifically designed for miniature pizza ovens such as the Ooni Pro, Ooni Karu, Gozney Roccbox, Gozney Dome, Bertollo Wood Fired Oven, among others.
We offer complimentary shipping nationwide on our miniature pizza wood, and even include a selection of all-natural fire starters that will make your wood fired pizza experience easier than ever before!
16″ Length Pizza Wood for Full Sized Ovens
If you're cooking pizzas in a full sized oven like the Forno Piombo, Alfa Oven, or Fontana Forni then you'll want our 16″ length pizza wood. Designed by and for pizza chefs, this wood burns hot for the incredible pizza quality you want.
We ship and deliver in the form of cooking wood boxes or our custom cooking wood racks. This is the best pizza oven wood you will ever try for cooking pizzas!
Pizza is one of America's favorite foods, and science recently confirmed that cooking it in a wood fire oven is the best way to enjoy it. After closely studying how they work, a physicist confirmed the reason wood fire pizza tastes better than all other cooking methods is because wood stoves use convection heat to cook the base of the pie, while radiant heat warms the toppings to the perfect level of doneness. The ideal temperature for this process to take place does not match the normal temperature range for an electric oven, meaning wood fire is the safest and most effective way to enjoy the perfect slice. When cooking a pizza with wood, you also have the opportunity to infuse it with one-of-a-kind flavors by choosing high-quality aromatic wood, which produces a delicious smoke you can tailor to complement your toppings.
The benefits of using a wood-burning pizza oven go beyond the delicious taste they produce. Compared to other cooking methods, a wood fire gets hotter faster, which reduces cook time for many pies. Cooking with an authentic wood fired oven saves time, allows you to experiment with new flavors, and produces the perfect pizza? Sign us up!
Of course, the key to a successful pizza night depends on the quality of the wood in question. Fortunately, Cutting Edge Firewood has the top-quality kiln dried Pizza Cut Firewood you need to impress your friends and your tastebuds.
The Best Wood for Pizza Oven. Period.
Designed specifically for wood fired pizza ovens, Cutting Edge Firewood's premium pizza oven wood — harvested from strong, healthy oak trees — gives you the hottest and longest burns. We partnered with professional pizza chefs to study what makes a pizza taste great and found the key is to manage burn temperatures properly. The easiest way to control oven temperatures is by using pre-split wood in uniform cuts.
Our firewood goes through the most rigorous drying process in the industry, rendering it completely free of mold, fungus, or bugs, for a consistently clean flavor. Our wood is dry, so it is easy to light, and dense, so it burns for longer amounts of time. When you use pre-cut wood, you don't need to worry about the labor of selecting and drying your own fuel and can rest assured you're making the best quality pizza possible.
Why Our Wood Has a Cutting Edge Difference
When you use wood from other suppliers — or even from your own backyard — you are burning wood that has too much moisture in it. This moisture content can create an excess of smoke and will not allow your oven to reach the high temperatures it needs, resulting in a less-than-perfect pizza. While seasoning wood is one method of drying firewood, it can take anywhere from several months to a year and exposes your wood to fungus, rot, disease, and insect infestation, and it is literally rotting, so it will not produce nearly as much heat or a quality flavor.
When you choose Cutting Edge Firewood for your pizza oven, you don't have to worry about any of these things. Our wood burns brighter, hotter, and longer, and is beautiful enough to display in your restaurant or home.
As a valued member of the Cutting Edge Firewood family, you'll enjoy the following:
Flavor: Use Pizza Cut. Don't just think of the wood as a fuel or heat source, think of it as an ingredient. With several types of wood to choose from, when you want to get more adventurous, you can select the best flavor to pair with your sauce, cheese, and toppings. Looking for something subtle and understated? Try Cherry. Want to try something a little more daring? Pecan is an adventurous choice.
Quality: Cutting Edge Kiln Dried Firewood is an essential part of cooking a pizza in a wood-burning oven because it has been dried in a controlled, high-temperature kiln by experts who are passionate about their work. At Cutting Edge Firewood, we kiln dry all of our firewood 12 times longer than required by the U.S. Department of Agriculture (USDA), then hand-pick each and every piece of wood before shipping it to you. With all of our shipments, you will also benefit from uniformity — every box or rack contains the same size and shape wood, according to your specific needs. This uniformity allows for an even, predictable burn, and better flavor for your pizza.
Customer service: Whether you're a home cook or the chef behind the neighborhood's favorite pizza joint, the team at Cutting Edge Firewood understands that reliable, quality wood is critical. All of our pizza cut firewood and fire products are carefully selected, processed, and packaged to reach you quickly and safely.
What Kind of Pizza Ovens Are Compatible With Cutting Edge Firewood?
While pizzerias will always hold a special place in our hearts, some nights are meant for staying in. Mini pizza ovens for the backyard cook are becoming increasingly popular for hosting small family gatherings and special events at home. With a quality pizza oven and some gourmet pizza cut wood, you can enjoy your favorite pies without leaving the house.
Cutting Edge Firewood pizza cut firewood is compatible with the most popular pizza ovens in the industry, including:
Ooni Pro.
Ooni Karu.
Bertollo Wood Fired Oven.
Forno Piombo.
Alfa Oven.
Fontana Forni.
Our pizza oven firewood is suitable for use in most pizza ovens, but feel free to contact us with any compatibility questions!
Miniature and Full Sized Pizza Oven Compatible
We offer two different cuts of Pizza Wood — miniature and full size. Each size comes in a variety of flavors for you to choose from, and there is no difference in quality, so you can choose whichever type of wood is compatible with the size of your pizza oven.
Miniature Pizza Wood for Smaller Ovens
For small ovens, you need our miniature pizza wood. Cutting Edge Firewood miniature pizza cut wood is about 6 inches in length and made for the Ooni Pro, Ooni Karu, Bertollo Wood Fired Oven, and other miniature pizza ovens.
Every piece of wood is dense and dry, creating long-lasting flames that are easy to ignite. Choose from either our standard 10-pound box or the larger 45-pound box. Miniature pizza cut wood ships for free and includes a selection of all-natural fire starters to make your experience even easier!
Full-Size Pizza Wood for Full Sized Ovens
If you're using a full-sized pizza oven such as the Alfa Oven, Fontana Forni, or Forno Piombo, you need our full-size pizza wood. Designed by and for pizza chefs, this wood burns hot for the incredible pizza quality you want.
Choose to receive them in boxes containing enough fuel for 20 to 30 pizzas, or our sturdy storage racks, which hold enough for 200 standard-sized pies. This is the best wood you will ever try for cooking pizzas!
Choosing the Right Wood for a Pizza Oven
Not every type of wood is suitable for use in a pizza oven. For instance, softwoods will not give you the same heat or burn intensity that hardwood does, which will result in a lower-quality pizza. Our pizza cut wood is made from oak firewood because it creates a hot, steady burn with low emissions. That said, many of our chefs and home cooks add flavored cooking splits to their wood ovens to create unique flavors.
When choosing your pizza wood, consider the following:
Type: Pizza Wood is made from Kiln dried oak wood. Pizza Wood is the best type of fuel for a pizza oven because it burns steadily and produces an intense flame. When you're using wood for cooking — especially in your restaurant — quality is the most important factor to consider. When investing in kiln dried wood, be critical of the supplier you choose. Cutting Edge Firewood is passionate about helping you create good food and great fires, which is why we are unmatched in quality and service.
Size: Determine whether you need miniature or full-size pizza cut firewood, and calculate how large a shipment you require to meet your pizza-baking needs.
Amount: Are you hosting a one-night pizza event, or are you searching for bulk firewood for your restaurant? Opt for a box full of our quality wood, or order one or more stocked racks to meet greater demands.
Which Woods Give Pizza the Most Flavor?
While oak makes for the perfect pizza wood, adding flavored 8-inch cooking wood splits to your oven while your pie bakes is a great way to play around with flavors and create a memorable dish. Popular flavors to consider include: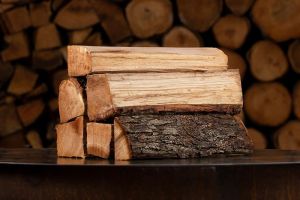 Hickory wood is full of a savory, smoky flavor that is great for meat-centric pies, especially when they feature bacon, barbecue, or poultry. Hickory would be great for a BBQ pizza! But be careful — Hickory will very easily overpower all other flavors. Use it very sparingly.
Pecan wood creates a light, nutty flavor that pairs well with a variety of poultry, cheeses, and hearty vegetable toppings.
Apple cooking wood is sweet and mild, but it pairs perfectly with savory meats and veggie toppings. Use apple sparingly, unless you want the crust to have an apple taste.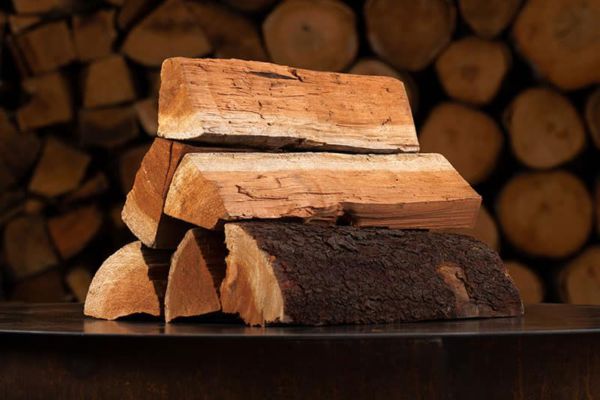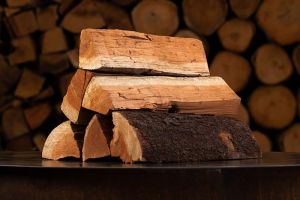 Cherry wood is our most aromatic cooking wood, and it infuses pizzas with a one-of-a-kind sweetness. It pairs exceptionally well with almost any meat.
With the growing popularity of flavor combinations like maple and bacon, adapt maple cooking wood to complement meat and cheese pies, or even a dessert pizza!
Cooking Pizza in a Wood Oven: FAQ
Looking to learn more about cooking with a wood-burning oven? Here are the answers to some of our most frequently asked questions.
Quality Pizza Cut Wood Where You Need It, When You Need It
Whether you are a pizza enthusiast or restaurateur, Cutting Edge Firewood can ship your gourmet pizza wood anywhere in the United States. This includes pizza cut cooking wood boxes and racks. Interested in partnering with us for bulk pizza cut firewood? Contact us directly and tell us about your business needs.
Before you finalize your order, don't forget to check out our fire starters and firewood tools to enhance your experience, including:
Cigar matches.
Excelsior fire starter.
Hickory or oak kindling.
Designer fire irons.
Roasting forks.
Ash shovels.
Delivery Services for Residences and Restaurants
At Cutting Edge Firewood, we take pride in providing only the highest quality wood and customer service to home and business owners. We work with you directly to make sure you always have the right type of firewood, smoking chips, or pizza cut wood whenever you need it most.
If you're a restaurant owner, you won't find a better pizza cut firewood than Cutting Edge Firewood. We handpick each piece, ensuring the best quality, and offer various sizes and options to suit your business needs. Our pizza cut wood is designed explicitly with wood-burning ovens in mind and is always free of mold, fungus, and insects. If you live in the Atlanta area, our Delivery Artisans will bring your shipment directly to your restaurant, unload, and stack your shipment wherever you would like. Our wood is also beautiful to display, creating a one-of-a-kind style for your dining area. Live outside Atlanta? Don't worry. We'll still ship your wood directly to your business in carefully curated packaging. We are passionate about building relationships with all our clients. Contact us online or give us a call at 678-878-2434 to learn more about our Restaurant Partner Program.
We offer the same unmatched quality and artisanal delivery options for home-based pizza lovers, including shipping across the U.S. If you live locally, our experts will bring your shipment directly to your home and unload it in your chosen location. If not, enjoy the same thoughtful shipment and on-time delivery.
Try Cutting Edge Firewood

Pizza Cut Wood
For Delicious Wood-Fired Pizza
The secret to perfectly cooked wood-fired pizza is using top-quality, kiln dried oak from Cutting Edge Firewood. If you're ready to use the best pizza cut wood to bake the best pizza, order your shipment today!