Elevate your grilling experience with our exceptional smoking wood chunks. Expertly crafted for use in popular grills and smokers like Kamado Joe and Big Green Egg, these premium chunks are the go-to choice for top chefs and competitive BBQ teams seeking to infuse delectable flavor into their dishes. Don't settle for ordinary meals – incorporate our smoking wood chunks into your grilling repertoire and take your culinary creations to new heights!!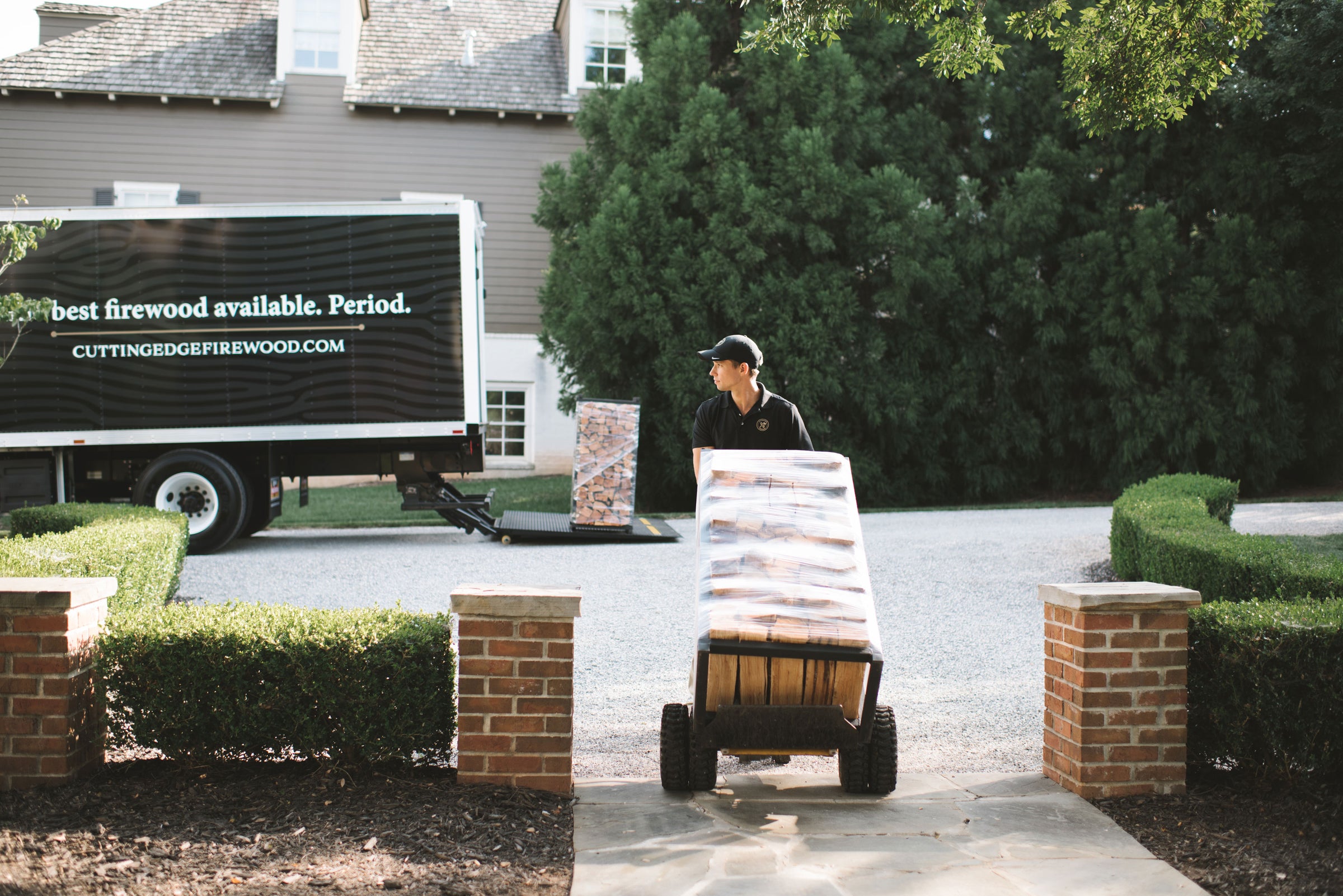 COMPLIMENTARY SHIPPING ANYWHERE IN THE CONTINENTAL UNITED STATES!
Experience the convenience of having firewood delivered straight to your door with our ultra-premium firewood boxes that are packed with everything you need for a perfect night by the fire.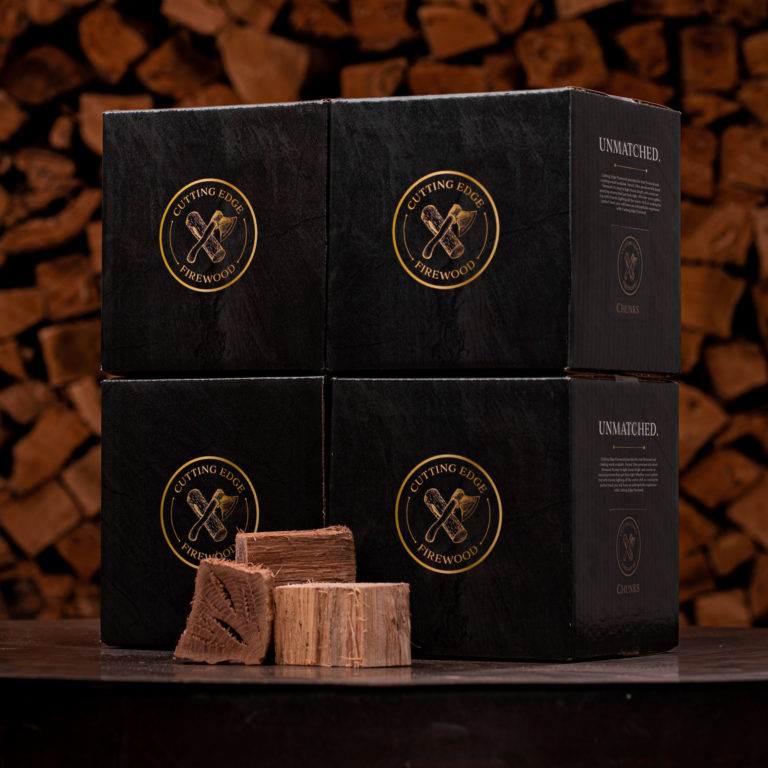 Variety Pack
Use Each species of smoking wood chunks provides a different temperature and flavor to your food. Whether you are seeking out a specific flavor or want to experiment with different types of wood, our smoking wood chunks will add something special to everything you cook. Not sure which to choose or maybe you want to mix and match? Try our 4 species variety pack of smoking wood chunks.
Smoking and Grilling
Whether you're cooking with a gas, electric, or charcoal smoker or grill, adding wood is the only way to achieve that authentic wood smoke flavor. Smoking and grilling with wood is perhaps the most significant advantage of cooking over a fire, and provides you with an opportunity to flavor your food in a way you can't accomplish in your kitchen. And we believe the best-suited type of wood for this purpose are wood chunks.
In this guide, we'll share with you the best wood chunks and grills on the market and provide some tips on how to infuse your meat with mouthwatering flavor.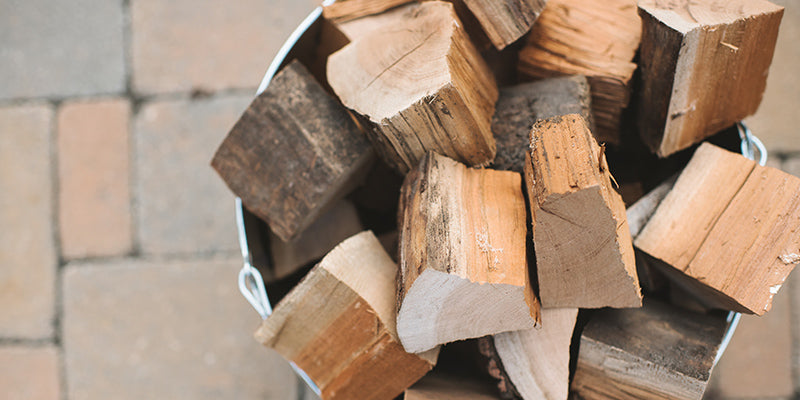 ★★★★★

Absolutely the best run company imaginable!

Homer R.
★★★★★

Awesome firewood, best service in the world

Joe J.
★★★★★

Great burn and taste for my pizza! The pizza wood from Cutting Edge is amazing.

Dusty R.
★★★★★

This is beyond a doubt the best firewood I've ever purchased. Creates a beautiful, blazing hot, actual heat producing fire.

Terri K.
★★★★★

Delivery was awesome and firewood perfect. Timely and awesome service.

Howard G.
★★★★★

I LOVE how this wood ignites and burns.

Chuck D.
★★★★★

Love the boxes the chunks of wood comes in! Nice thick chunks that works for my vertical charcoal smoker.

Antonio J.
★★★★★

From ordering online to delivery. Cutting Edge has impeccable customer service and absolutely beautiful wood.

Craig B.
★★★★★

We're in love with the cherry wood smell— but the thing that will bring us back to Cutting Edge was the *truly truly truly* exceptional customer service.

Eugene P.
Smoking chunks are pieces of hardwood typically under two inches in length and are an ideal choice for producing smoke over long periods. Smoking chunks create more smoke and do so for longer, meaning you won't have to add more wood every half-hour.
Many people who smoke their food use a smoker, which is a piece of equipment that cooks food in a controlled environment at lower temperatures. Smokers come in many forms and sizes, ranging from tiny electric units to large smoker rigs.
Below we'll discuss several species of wood commonly used for smoking, and discuss the flavors each adds to your food. It is not uncommon for chefs to mix multiple types of wood chunks. Our wood chunks for smoking are all treated with the utmost care to ensure they provide the most flavor for your meal.
Oak: Oak is a classic go-to wood for meat smoking and is a smart choice for those new to smoking. This wood does not have a particularly strong flavor, which makes it ideal for cooking brisket, beef, sausages, and pizza. At Cutting Edge Wood, we sell a small box of white oak chunks for $39 that lasts for eight to 12 meals. We also sell a large box that is good for 40 to 55 meals and costs $119.
Hickory: This wood type is perhaps the most versatile, as there are many ways to smoke wood with it. Hickory has a reputation for its particularly strong flavor, so when smoking with this type of wood, take care so it doesn't end up imparting a bitter flavor. It requires some practice to use well, and we recommend mixing it with oak to ensure the flavor is not too strong. When used correctly, its flavor can be sweet, hearty and slightly bacony. Hickory is an excellent choice for grilling burgers, steaks, ribs, and bigger cuts of pork shoulders. At Cutting Edge Firewood, we offer a small box of hickory wood chunks for $49 and a large box for $149.
Cherry: This mild fruit wood is perfect for smoking or grilling and has a sweet flavor that works particularly well with chicken, pork, ham, and turkey. If you mix it with hickory or other similar hardwoods, the resulting flavor is delicious. A small box of cherry wood chunks costs $49, and a large box costs $149.
Pecan: Pecan provides a sweet, rich and nutty flavor that complements practically any food. It's so sweet that you might want to balance the flavor out by mixing it with a harder wood. Pecan works great with roasts, briskets, and ribs and it's also easy to ignite. At Cutting Edge Firewood, we sell a small box for $69 and a large box for $199.
Whiskey: Wood from oak whiskey barrels adds a unique flavor. We recommend experienced smokers only use three whiskey chunks when smoking. Start with one chunk at the beginning, add another about halfway through your cooking, and the final one near the end to make sure the whiskey flavor gets thoroughly infused.
Before smoking, make sure your smoker or grill can use wood chunks. If you're currently shopping for a smoker, here are some brands we recommend.
1. Big Green Egg Wood for Smoking & Grilling
Big Green Egg is perhaps the most popular brand on the market. In fact, its fans even have a name: "eggheads." This top-of-the-line product features meticulously crafted top and bottom vents that allow users to precisely control the temperature. It also features a stainless steel grid that should remain fresh with little care and a porcelain exterior that will stay shiny for many years to come.
The product also comes in a wide range of sizes: XXLarge, XLarge, Large, Medium, Small, MiniMax, and Mini. The XXLarge is a 424-pound unit with 672 square inches of cooking area that allows users to cook 35 to 40 burgers simultaneously, which obviously has many commercial uses. The Mini, on the other hand, weighs 39 pounds and has 79 square inches of cooking area.
Here are some advantages of the Big Green Egg.
Well-known: Big Green Egg is the most recognizable name in the grilling and smoking industry.
Quality construction: Big Green Egg manufactures all components with care.
Variety of sizes: You'll most certainly find one that suits your needs.
Many accessories: You can add carts, side tables, deflectors, and other useful accessories to your Big Green Egg.
2. Kamado Joe Wood for Smoking & Grilling
Kamado Joe is an innovative brand that offers several handy add-ons such as:
An ash tool
Side tables that flip up
A divide-and-conquer system
A stand on wheels
You can opt to forgo these extras if you'd rather have a bigger table for setting up. If this is the case, you can purchase a standalone unit and a sturdy table to put the grill on.
Kamado Joe's most popular product is the Joe Classic 18″, which is so thick that the outside remains fairly cool while cooking.
Recent redesigns of the Joe Classic feature several innovations: Its recently developed Air Lift Hinge prevents the lid from slamming shut if you accidentally let go of the handle, the new top vent prevents rain from entering and gives users more control, and the pull-out ash drawer makes it much easier to clean the grill.
Here are the Kamado Joe's best features.
Thick ceramic walls: These keep the outside surface from getting too hot.
Versatile uses: This grill's versatility makes up for its average size.
Innovative features: The hinge, the new top vent, and the ash drawer are just a few of the company's recent innovations.
Attractive: Kamado Joe's design features striking red porcelain.
3. Primo Wood for Smoking & Grilling
If you're worried your smoker won't be wide enough to accommodate large cuts, this will not be a concern with the U.S.-made Primo Oval. As its name implies, this smoker is oval, rather than circular. With its additional width, this unit can easily accommodate ribs, and users can divide the firebox charcoal to create two separate heat zones.
The Primo Oval weighs an impressive 250 pounds. However, note this weight includes a top vent made of cast iron and a cooking area of 300 square inches. And if that's not enough space for you, you can use a rack system to increase that area to 495 square inches.
The Primo comes in larger sizes, including the 400-square-inch Oval XL, and a smaller 210-square-inch model is available as well.
Here are some advantages of this brand.
More cooking room: Thanks to its oval shape, the Primo Oval is ideal for those who like to cook large cuts like ribs.
Grills are dual-sided: That leads to a longer lifespan.
The firebox is dividable: Users can cook two different items simultaneously and can cook with indirect heat.
Made in America: Primo is the only Kamado style grill that's made in America.
This is our particular favorite. If you order the Primo from Cutting Edge Firewood, we can help ensure you have the best accessories to make your smoking experience simple and more enjoyable. Our Delivery artisans will even provide complementary set-up!
The shelf life of our smoking chunks can last years if stored indoors in a dry area, and you may be able to use them once or twice for cooking. For instance, if you use three chunks to smoke and parts of them are still wood when you finish, you might only have to use one to two the next time you cook. If you are grilling, however, you will probably not be able to reuse them.
When smoking, one choice you must make is whether to use wood chunks or wood chips.
Chips consist of small shavings and scraps of wood that ignite quickly. However, they also burn out quickly — usually too quickly to add any real flavor to your meat. Perhaps the greatest advantage of chips is that they are widely available.
Chunks, on the other hand, are pieces of wood roughly the size of a fist. Although it takes longer for them to ignite fully, they will burn in a grill for at least an hour, and in a smoker, they can last for several hours. For this reason, we recommend chunks for smoking your food.
Yes. Smoking chunks and charcoal make a perfect pair, with charcoal as the primary provider of heat and the wood as the primary provider of flavor. Here are some tips on how to use the two together.
Get the right equipment: If you have a smoker or other device you know can use both wood and charcoal, this is a great start.
Start with less: Begin your cooking with less on your first time using the chunks. A single piece can add a lot of true smoke flavor, and it's easy to add more to the next cook. This is particularly true of the Hickory and Pecan, which have very strong flavors. Usually you can get away with using a few chunks of the oak and cherry.
Start with a plan: Whether grilling or smoking, it is important to add the wood at the beginning of the cook since there is a short window of the meat absorbing the flavor. Also, don't let too much time pass from when you ignite the chunks from when you start grilling or smoking the meat. Wood loses its flavor as it turns to coals.
Don't light all the charcoal at the beginning: If you're planning to cook for many hours — which muscled meats like pork shoulders require — keep some of your charcoal unlit at the start. When you ignite the charcoal later, it will help maintain the same temperature.
If your meat drips directly onto the charcoal, you can use less wood: If the juice from your meat will drip onto your charcoal, this will lead to the production of smoke vapor, which means you won't need as much wood to add a smoky flavor.
To maximize the flavor infusion, use ultra kiln dried smoking chunks: Wood chunks from Cutting Edge Wood are a perfect choice, since we dry our wood by firewood for sale, which is 12 times longer than the USDA requires.
Have enough charcoal ready: Although the amount of coals necessary depends on your cooking method, the charcoal brand, and your equipment, try to have a minimum of 10 pounds of charcoal ready for a day of cooking.
Although the dry wood vs. wet wood debate has been raging for a long time, the quick answer is no. Here are the reasons why.
Wood doesn't absorb much water: Studies have shown that, even after soaking for hours, wood chunks absorb very small amounts of water. Taking cross-sections of a variety of hardwood species revealed the penetration of water is minimal past the surface. After all, why do you think wooden ships have been crossing the oceans for centuries?
They don't produce as much smoke as you think: Despite appearances, soaked wood doesn't start smoking right away. The "smoke" you're seeing is water that is evaporating and becoming steam. The wood will not be able to impart its smoky flavor to your food until the moisture has evaporated completely.
Wet wood does not mean a longer smoke: As the above point just proved, soaked wood will not smoke for longer. Steaming does not equal smoking.
Soaked wood can be bad for charcoal cookers: If you are cooking with a charcoal cooker, wet wood can smother your fire.
There is one exception to this advice: when you're plank cooking. For those unfamiliar with the technique, plank cooking refers to placing food on a piece of wood directly and cooking it. By cooking food this way, the food absorbs the natural flavors of the plank.
If you decide to cook using this method, the first thing you should do is soak the piece of wood for several hours before you place it on your grill. Although the wood won't absorb very much water, the water will keep the plank from bursting into flames and burning up your food. Forgetting to soak in this case could lead to a costly mistake.
Ultimately, you want to create a fire that burns cleanly and produces a smoke that is thin, sweet-smelling, and nearly invisible. Although the dry wood vs. wet wood debate is not likely to end anytime soon, the reality of the situation is that soaking your wood before smoking is rarely of any use. For wood to smoke, it must be dry, so wetting your wood is just wasting time.
Whether you are looking for Big Green Egg smoking chunks, Primo smoking chunks, or wood chunks for Kamado Joe, Cutting Edge Firewood offers the best wood chunks on the market.
The high quality of our chunks is largely due to the process we use. Most other companies will season their chunks before kiln drying them, which causes the flavor-rich sapwood to rot, resulting in logs that are largely flavorless.
At Cutting Edge, we know better. Cutting Edge has a burning passion for fire — a passion you'll notice in both our high-quality Cutting Edge Kiln Dried Firewood and the professional delivery service we provide.
Our smoking chunks come in a box, and we can ship anywhere in the United States. The best part? Shipping is complementary for almost every box of chunks and location! Visit us online to browse and order our premium cooking wood.