Thanks for printing! Don't forget to come back to Cutting Edge Firewood for fresh articles!
Why Kiln Dried?
Unlike green or "seasoned" firewood, kiln dried firewood has been dried in a high temperature oven. This not only removes moisture that normally makes firewood hard to light, but also kills fungus and pests in the wood - making it cleaner and last longer than any other firewood available. Cutting Edge conditions its wood for 48 hours, 12 times longer than the USDA standard. All firewood comes with our Complimentary Artisan Delivery.
Visit the showroom
for firewood available for immediate take home use.
SELECT THE RIGHT WOOD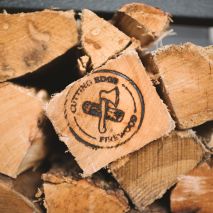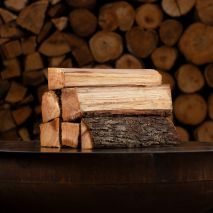 Hickory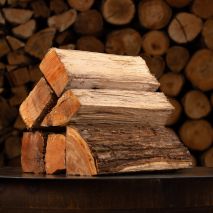 Oversized Hickory
Best Experience with Hickory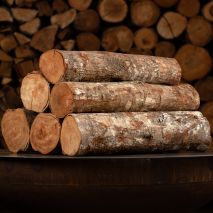 Uncut Rounds
Best Experience with Hickory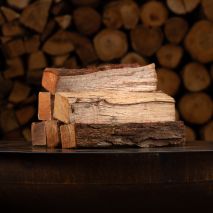 Oak
First Time Burner Preferred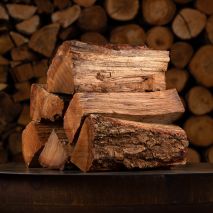 Oversized Oak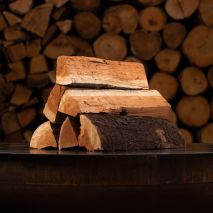 Cherry
Our Most Popular Kiln Dried Firewood
For the best fires, you need the best firewood. At Cutting Edge Firewood, we strive to provide residents throughout Atlanta with a premier firewood experience unlike any they've had. We do this by kiln drying our wood and providing you with premier-quality firewood. But not all wood is the same. We offer our customers a variety of species to choose from and each has distinctive characteristics.
No two kinds of wood are exactly the same, so here are some of the qualities you'll discover about our three most popular kiln dried firewood types.
View All Kiln Dried Firewood Available
Hickory Firewood
Hickory is a dense and heavy hardwood that most agree is the best for burning. Since the wood doesn't hold much moisture, once kiln dried, hickory is extremely easy to ignite. Of all our wood selections, many find that hickory provides the best overall experience. There is absolutely no possibility of insects or mold and it gives off the lowest emissions, making it safe whether you want to enjoy it indoors or outdoors.
Hickory provides you with the distinctive qualities everyone loves about a great fire. It burns longer than all our other split wood options and provides the hottest and brightest flames. For an even longer burning fire, choose from our selection of Uncut Rounds. Hickory's classic crackle sound and burning properties make it perfect for cold nights with your friends and family gathered around the fire pit. And if it's a great aroma you're looking for, the smell of burning hickory is one of the best. Plus, hickory can be used for smoking and cooking food, giving it a distinct smoky flavor.
Looking for firewood that you can burn for an extended period of time? Oversized Hickory can be the perfect option for you since it will burn for hours with little maintenance.
Buy Kiln Dried Hickory Firewood In Atlanta
Oak Firewood
Another popular choice of wood that provides excellent heat for your home is oak. There are more than 600 different varieties of oak. This dense wood can burn for a long time, but not quite as long as hickory. Once kiln dried, our oak firewood has no possibilities of insects or mold. It also produces very low emissions, making it safe to burn in your home and outdoors. The aroma of oak is a pleasant smell that many would describe as sweet.
But possibly the best characteristics of oak firewood is that it's easy to light, burns bright and provides an ample amount of heat. Oak is considered one of the best woods to burn in your fireplace. For those who don't have a lot of experience with firewood — or, as we call them, "casual burners" — oak is a great starter wood to begin your adventure in premium firewoods.
Buy Kiln Dried Oak Firewood In Atlanta
Cherry Firewood
If you're looking for a unique wood burning experience that stands apart from the rest, then give cherry wood a try. This firewood does not burn as well or as long as some of our denser selections like hickory and oak, but there's a reason why many firewood enthusiasts enjoy it. The smell of cherry wood burning is out of this world, providing an amazing aroma that will fill your home.
Like all of our kiln dried firewood, there is no possibility of cherry wood logs having insects or mold and it produces very few emissions. However, it may not be the best choice if you want a roaring blaze. Cherry wood only burns for a short or moderate amount of time and doesn't produce a ton of heat. The reduced level of heat makes it a great option for spring, summer and early fall. Cherry does provide ample light, though, so if you would like a warm and aromatic glow, order our cherry firewood.
Buy Kiln Dried Cherry Firewood In Atlanta
Artisanal Delivery Service
Cutting Edge Firewood's Artisanal Delivery Service is classified as a luxury white glove service. This service takes the work out of buying and receiving firewood. Delivery Artisans deliver firewood in patent pending, exclusive, airbrushed
firewood racks with a high-quality canvas cover
perfectly stacked every time in the location of your choice. Providing ready to use firewood every time with expert firewood knowledge, the Delivery Artisans can even start the first fire and demonstrate how to have the best experience.
WE PROUDLY SERVE
Greater Atlanta
Acworth
Alpharetta
Atlanta
Austell
Berkeley Lake
Big Creek
Brookhaven
Buckhead
Buford
Canton
Chastain Park
Clarkdale
College Park
Cumming
Dacula
Decatur
Druid Hills
Duluth
Dunwoody
East Cobb
Emerson
Fairburn
Fair Oaks
Fayetteville
Flowery Branch
Gainesville
Grayson
Holly Springs
Johns Creek
Jonesboro
Kennesaw
Lawrenceville
Lithia Springs
Lithonia
Loganville
Mableton
Marietta
Milton
Morning Side
Morrow
Mountain Park
Norcross
Oakwood
Palmetto
Peachtree City
Peachtree Corners
Powder Springs
Riverdale
Roswell
Sandy Plains
Sandy Springs
Smoke Rise
Smyrna
Snellville
Sugar Hill
Tucker
Tyrone
Union City
Woodstock
And Most of the Metro Atlanta Area